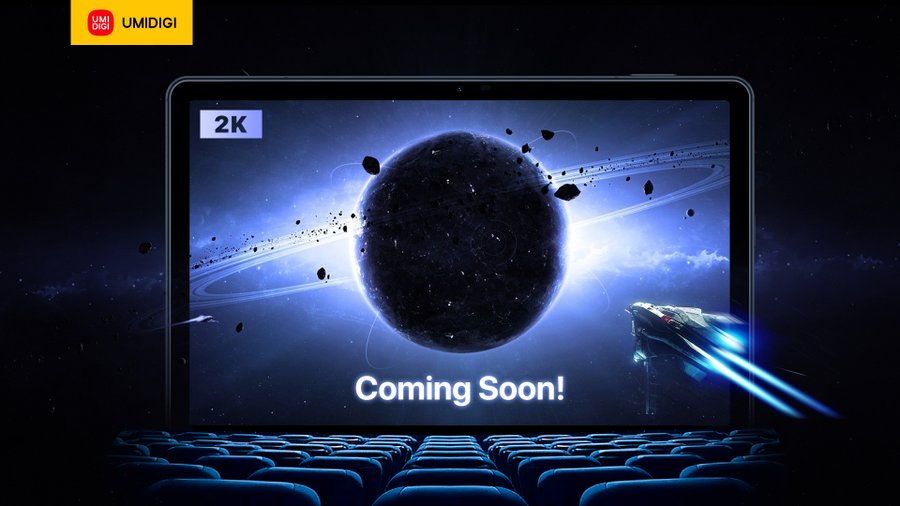 The tablet market has picked up after a few years of declining sales. And now almost every manufacturer wants a piece of the pie including those who never cared for the tablet space before. Moreover, UMIDIGI is one such new player and it has teased the arrival of its very first tablet. The Chinese manufacturer announces that its first Android tablet is coming soon. And it will launch as the UMIDIGI A11 Tab. The teaser gives us an early look at the design and also provides some details of the upcoming device.
UMIDIGI upcomig tablet key features
As seen in the image above, the UMIDIGI A11 Tab will have a pretty large display. However, the size is not known yet, but it may be about 11-inches in size. Moreover, it also reveals that the screen has 2K resolutions. It also features curved corners with moderately sized bezels of equal thickness. In addition, the tablet may have its front-facing camera on the left side bezel if you hold the device in portrait mode.
Furthermore, the back of the tab appears to be made of metal. And the antenna lines add a bit of detail to the overall appearance of the upcoming tablet. The corners are curved which should make it comfortable to hold for a long while. Moreover, there is a single camera on the rear side. And it sits in a small housing along with an LED Flash. In landscape mode, the power button is on the right side with the volume control buttons on the top. while there are four grilles- two on each side. However, we cant confirm the UMIDIGI A11 tab has four speakers. The company has yet to announce the release date. But we expect it to be very soon.